Automatic Fire Suppression

for Transport in Perth, Brisbane, Sydney, and Melbourne
Using the industry's leading fire suppression technology, the expert team at Qtec Fire Services in Brisbane and other regions in Australia can help protect your drivers and passengers while preventing costly damage. We provide companies in Perth, Brisbane, Sydney, and Melbourne with fire suppression systems for transport.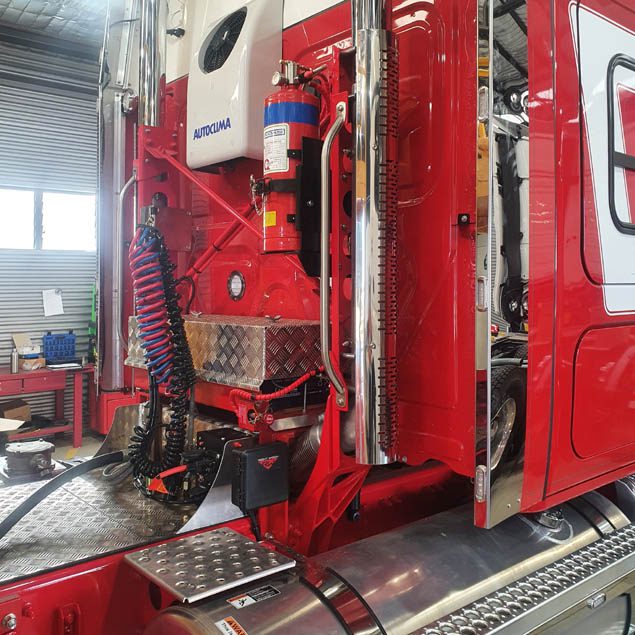 Our Foam Spray Fire Suppression Systems for Transport
The transport industry covers extensive types of equipment, from buses, forklifts, electric vehicles, and materials handling equipment to large prime movers. As leading fire suppression system manufacturers, Qtec Fire Services has a Foam Spray Fire Suppression System for all these products in Perth, Brisbane, Sydney and Melbourne. Our COMPACT VDAS system is specifically designed for fitment to buses, trucks, electric vehicles, commercial vehicles, mining LVs, and forklifts, where conventional systems are too large to be installed into confined areas. All VDASF3 foam is F3 Fluorine Free Foam Agent compliant with all EPA Laws in all states and territories.
Why You Need Automobile Fire Suppression Systems
Using automobiles, including buses, electric vehicles, and coaches, is essential for the full functioning of society. Bus operators and manufacturers care most about their passengers' safety. However, many automobiles catch fire, with most starting in the vehicle's engine compartment. Such incidents evolve rapidly, leaving no time for evacuating the passengers from the vehicle. Furthermore, if the fire is not swiftly controlled, the results will be dramatic, including loss of life. This demonstrates the importance of having an automobile fire suppression system in place.
Our High-Performance Automobile Fire Suppression Systems